特价
黑色牛仔裤
Product Details
黑色直筒牛仔裤。中高腰剪裁,五袋款式。腰带环裤腰,腰部设有纽扣可调节大小。后袋徽标印花,膝盖处做破坏设计,拉链门襟,银色五金。
• Kathy穿26码. 身高: 167cm; 胸围: 83cm; 腰围: 66cm; 臀围: 91.5cm
• 100% 棉
• 冷水机洗 | 低温烘干
Sizing Details
Customer Reviews
Write a Review
Ask a Question
06/04/2021
Yer Y.

United States
New favorite pair of jeans!
1.) Considering that my order was being shipped from China to North America, delivery was pretty fast (~2 weeks)! 2.) Hugs my body so well! I got a size 26. For reference, my height = 5'8, waist = 24 inches, hips = 36 inches. 3.) I love the style of these jeans. I absolutely believe that the two straps on the back waistband is revolutionary! They have buttons so you can adjust the pants to be loose or tight around the waist. I usually struggle with having a gap in the back of my jeans whenever I sit down (iykyk) because I'm lean. However, these jeans do not give me that problem. The bagginess/flare at the bottom is so flattering. If there were more colors, I would buy all pairs. >3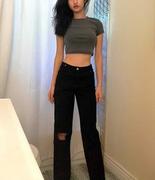 10/16/2020
Sunny

Australia
Misleading measurements and unexpected payment fee
They pants were my most anticipated item from SVNDZ when I saw Kathy's try-ons. But they came as a dissapointment for the following reasons: 1. The size. Based on measurements in CMs on the website, even the biggest size would be too small for me (my waist 76cm, hip 104cm). So I decided to take the risk and bought the largest size 29. But when they came they were almost two sizes bigger for me and I have to wear a belt for the pants to stay up. Because they are too big, they are not complimentary to the figure and my butt looks saggy :( Also from the side, my tummy looks like it's poking out but it's actually just the pants. 2. The payment fee. I'm based in Australia and I was not informed that credit card payment would involve a foreign transaction fee of about $5. It's not a lot I know but still came as a surprise in my bank statement. I think given your international market, you really should get PayPal. 3. The material. The materials are not uncomfortable, but they come with a certain smell that some black jeans have. It's the sort of metallic smell that gets more pungent over time and I do not like it. The materials are a bit thin too so I don't know how durable it will be. For 78USD I was really expecting better quality.
09/29/2020
Xin R.

Malaysia
Boujee
Jeans quality is the A* type where you can feel the slight elasticity & this pair makes you look at least 165cm when you're barely 160cm, a MUST COP for this jeans!
订阅上新通知
请输入您的电子邮件,我们将在您的商品可用时通知您。