特价
藏青色百褶mini裙
Product Details
藏青色百褶mini短裙。裙身饰有褶裥。后袋徽标印花,双头拉链开合,腰部设装饰扣。撞色缎面全衬里。
• Kathy穿S码. 身高: 167cm; 胸围: 83cm; 腰围: 66cm; 臀围: 91.5cm
• 95% 涤纶 | 5% 氨纶
• 冷水机洗 | 自然晒干
Sizing Details
Customer Reviews
Write a Review
Ask a Question
03/08/2021
Marine

Reunion
Favorite skirt !
The skirt is sooo cute, got lotta compliments on it. It's quite short but I like it that way (I'm 158cm, 50kg and I got a XS, coulda go with a S) hehe I like the little zip thingy, it makes everything cooler. The colour goes well with everything so you can create different looks. Quality is super nice and confortable and I will buy it in another colour if I could.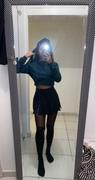 11/23/2020
Charmaine T.

Singapore
Wrinkle-free, Flattering and Versatile
This piece omg is so amazing!! I wore it for an entire day and it is wrinkle-free at the end of the day. Very flattering and smooth fabric. Even the purple inner lining feels amazing. Highly versatile i can see myself matching a lot of things with this skirt. The downside is u will have to wear safety shorts and also theres no pockets. Other than that, this skirt is PERFECT.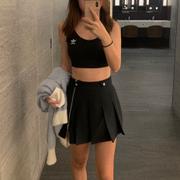 10/25/2020
Anonymous

Canada
Quality better than expected
Very comfortable and cute.
10/21/2020
Anonymous

Taiwan
Brilliant
Excellent service and quality ❤️
10/13/2020
Anonymous

United States
Not recommended
The material feels cheap. The cut is not good and the sleeve part is loose.
订阅上新通知
请输入您的电子邮件,我们将在您的商品可用时通知您。